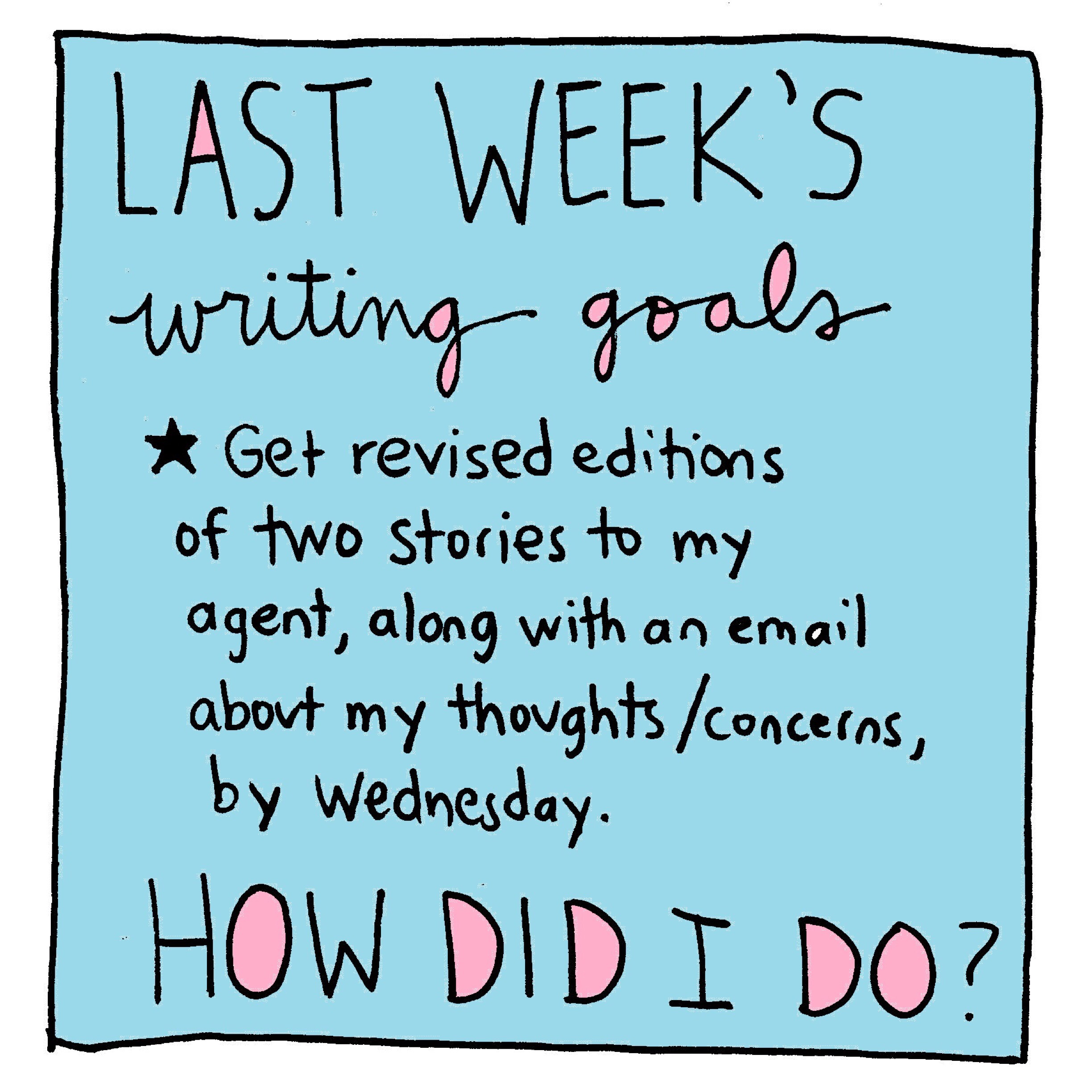 Last week's goals:
Get the revised editions of both stories to my agent,
along with an email with my concerns,
by the end of the day Wednesday.

How did I do?
Well, I did some more revising!
Worked really hard to cross a lot of things off,
work new things in,
and delve a bit deeper into my characters.
But did I get my stuff to my agent on Wednesday?
NO.
A big NOPE.
I'm giving myself some grace on this.
As much as I'd love to be one of those people
saying,
"Nothing's going to stop me!"
"I can do all the things no matter what!"
I just can't.
This week what stopped me was part of my tooth falling out.
Yup.
Just fell right out.
I had a fun time with my dental office
trying to figure out when I could get seen,
IF I could get seen,
what my insurance covered…
all that fun jazz.
And what pain medication
and antibiotics I could or could not take.
Turns out I have a root canal,
and, fingers crossed,
it can get done before the baby gets here.
(t minus 8 weeks!)
I decided that I would take care of all of that
instead of stressing about this writing.
I also found out my agent will be going on vacation soon,
until nearly the end of June.
I was thinking I could get stuff to her
by today at least,
but that only leaves her a few days to look at it
before she heads out.
Instead, I decided I'm going to set
a deadline for myself:
the date she comes back,
I want her to have revisions from me
AND three new stories.
Not three new stories that I'm going to write
before then,
but three stories that I've been working on
that she hasn't seen yet.
That's a do-able goal.
I feel better about the revisions too,
because they are REALLY sloppy right now.
Yes, it's part of the process,
but I want more time to work on them.
And guess what?
I'm setting this schedule, so I am giving myself more time.
Goals for this week:
Concentrate on getting more serious revision work
done on those two manuscripts
and pick the three that I want to send at the end of June.
It's going to be a busy week
(ending work, baby shower, my brother visiting)
but I have some time in the car on Thursday
while Danny drives me down to LA.
I plan to take advantage of that time
to hash some stuff out.
I have to admit,
I do hate coming on here and admitting
that I did not reach my goals for  the week.
But here's the thing:
life is going to happen
and our best plans are going to get thwarted.
I know that as long as I keep making progress,
I'll be fine.
And I know that
I will love to look back at these
in time and see the work that I was doing.
Finally,
I hope that someone out there reading this
sees this and thinks,
"Yes, I can do this writing thing
and even if every week is not the best week ever,
it's about all the weeks TOGETHER
and what I end up making that counts."
Oh, also,
this week I was inspired by an Instagram friend's feed
to write a new picture book!
It's in the rambling rough draft phase,
but I think it's going to be really fun.
If I ever end up selling it,
I'm totally dedicating it to him.
Plus, his name
is used for one of the main characters in the book.
I'll check in with you guys next week to tell you how it went!
I hope this is bringing some more insight into
what a writer's week looks like,
and a little bit of behind the scenes into my process.
Thanks for following along and keeping me virtually accountable!
Bye for now,
Kathy Ellen