SCBWI is awesome.
So is Hicklebee's.
So the two together is guaranteed to be fun!
I brought along Rosemary and she was so quiet the whole time,
until the very end when she cried while an author/illustrator
was talking about her books!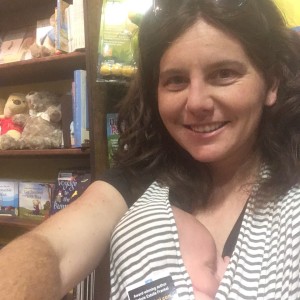 We had some time to schmooze and then had a discussion about books we love.
We didn't just gush though; we picked specific things about each book
that we could study from a craft standpoint
to make our writing better.
It really inspired me to do more of that; watch this space for some picture book studying coming your way!
Here's the list of books we talked about and the notes I jotted down about what people said about each book.
Picture Books
THE MOST MAGNIFICENT THING
juicy verbs, longish text for a PB but flows well,
universal theme of trying and failing and succeeding.
THE BEAR AND THE PIANO
A quiet PB but pulls you in
with the universal theme of belonging and home.
Lots of emotional resonance.
CLICK CLACK MOO
is the perfect picture book.
Has great repetition,
is funny without trying,
and it's a book to aspire to.
BEST FRINTS IN THE WHOLE UNIVERSE
it's smart and sweet
and the pictures and the text
sometimes say different things.
THEY ALL SAW A CAT
has a wide cast of characters
and masterfully shows things through
character's perspectives.
THE DAY THE CRAYONS QUIT
THE DAY THE CRAYONS CAME HOME
kids love them because of the humor
and that they a bit different in terms of storytelling
CHLOE AND THE LION
laugh out loud funny.
Kids love it as well.
THE SNOWY DAY
flows really well,
has great repetition,
and beings the story full circle.
You feel like you are there and on the adventure too.
MIKE MULLIGAN AND HIS STEAM SHOVEL
is a classic story because of the theme driving the book.
Old vs. new, friendship, changes.
LAST STOP ON MARKET STREET
has great metaphors and figurative language.
The Grandma's positive spin
on what may be perceived as negative events is great.
OFFICER BUCKLE AND GLORIA
the pictures tell a story
that Officer Buckle can't see,
so the reader feels like he/she's in on the joke.
Teamwork and friendship.
WOULD YOU RATHER BE A PRINCESS OR A DRAGON?
Great discussion jump off for kids,
and contradicting pictures and text.

Middle Grade
A MONSTER CALLS
Every word is beautiful,
great use of magical realism.
Lays out tension in a great way,
and establishes family relationships on the first page.
THE MAGICIAN'S ELEPHANT
has great flow when read aloud.
The librarian who recommended it said
it is the best book she's ever read aloud.
Also magical realism.
CHARLOTTE'S WEB
has something for everyone.
The language is precise,
it's a great read aloud.
There's a reason it's been around so long.
THE TRUMPET OF THE SWAN
was briefly mentioned after.
FLORA AND ULYSSES
great comic writing.
Sets a particular character
in a particular situation
to have a funny outcome.
CIRCUS MIRANDUS
has multiple themes
and does a great job of teaching without preaching.
HOLES
Nothing in the book doesn't matter.
Very tight, beautiful writing
that is all working toward a conclusion
that wraps everything up.
THE CROSSOVER
has great dialogue,
awesome poetry,
so many layers and metaphors as well.
Young Adult
ARROWS OF THE QUEEN
Makes you love her characters quickly,
unique way of having other characters describe the main character
(when the MC meets other characters, we get a paragraph from the other character's POV describing the MC)
Craft book
STEERING THE CRAFT
(I found two editions that may be different?)
It's Elements of Style but FUN!
Two members also talked about their self published projects,
Unfrogetables
and Positively Write.
What a great meeting!
And a great photo op with our good friend Kristi